Pediatric Tooth Extraction Spokane Valley WA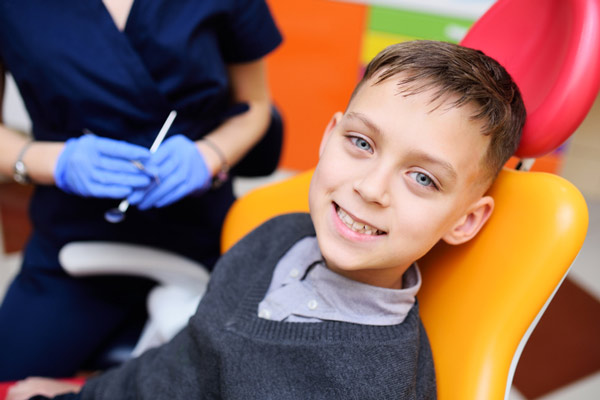 At Grins and Giggles Family Dentistry we are proud to offer dental services for the whole family, and one of our specialties is Dentistry for kids. It is important that your child begin seeing us once their first tooth erupts. This generally occurs at about six months of age. From a very young age, you can begin helping your child clean their teeth and gums. Maintaining clean teeth is important, even from the start. Starting your child off with good oral health can provide them with a lifetime of good habits.


Regular Cleanings and Exams

Regular dental cleanings and exams should be a regular part of your child's oral health routine. We recommend six month visits to all of our patients, regardless of their age. When children are young, we can monitor how their teeth are developing and coming in, and watch for any signs of problems. Sometimes, we may need to perform tooth tooth extraction.


Why Does My Child Need a Tooth Extraction?

Sometimes children may need to have a tooth removed. Sometimes baby teeth do not fall out on their own, and need a little assistance from the dentist. It is important that baby teeth fall out and are removed, so that they do not get in the way of adult, permanent teeth coming through.

Other times, tooth removal may be required as the result of a cavity. It is important that you teach and encourage your child to brush their teeth twice daily, and floss once a day. Regular brushing and flossing helps keep plaque and tartar away. The buildup of plaque and tartar is what causes cavities and tooth decay. This can be very common in children, who are still learning proper oral hygiene, and also like to consume sugary foods. Foods high in sugar easily stick to the teeth. Decayed teeth can cause unwanted pain and infection in your child, so if they have a cavity it is necessary it be taken care of right away.

Another common reason for children to have a tooth removed is to make room in their mouth for future orthodontia work, if their teeth are overcrowded. Dentists used to pull teeth more often in preparation for braces, however; this is not as common of a practice as it used to be.


Will My Child Need Sedation?

Depending on the reason for the tooth being pulled, where it is located in your child's mouth, and if it is impacted, will depend on the type of sedation your child needs. Sedation is safe for children. Before we perform any dental procedures, your child's health history will be reviewed. The mildest type of sedation is nitrous oxide. We also offer conscious sedation, IV sedation, and general anesthesia. We will review with you the dental procedure, and any instructions needed after the tooth extraction.

At Grins and Giggles Family Dentistry tooth extractions are sometimes necessary for children. This is nothing to worry about. Contact us today at (509) 928-4746 if your child is in need of a tooth extraction.