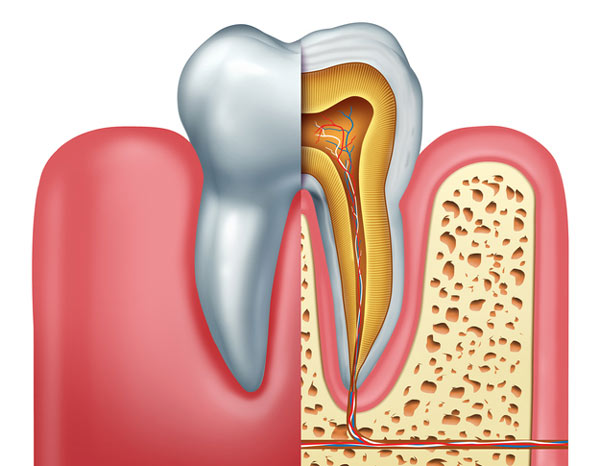 While most pain in your mouth will resolve on its own with a bit of at-home care, there are some warning signs that only the dentist or your physician should treat. These include sensitivity to hot or cold temperatures, swelling, bleeding gums, tenderness under one of your teeth, loose or cracked teeth, and pain when chewing food or biting down on an object. This could be a sign that you are in need of endodontic therapy, also known as

root canal

treatment.


What Is Root Canal Therapy?

A lot of treatments we do in our offices work on the outside of your tooth. However, root canals focus on the inside of your tooth. The exterior or outside of your tooth is made out of dentin. Dentin is made of a hard outer shell. The inside of your tooth is called the tooth pulp. Your tooth pulp has a lot of tissue, blood and your tooth nerves. The inner tooth pulp ensures that your tooth functions properly. The pulp works to keep your tooth healthy, which means that your gums and jawbones are healthy as well. Because the tooth root connects your tooth to the jawbone, the roots are very important.

If you are lucky, your teeth are in great shape, then you should have no problems. You should be able to have great teeth throughout your life. There are times, however, when something as simple as a cavity can affect your dental health. If you have a cavity, and you get it filled, your tooth will remain strong, especially if we catch it early.

When you have a cavity and you don't get it fixed, the cavity will continue to grow. The cavity will grow larger and larger, and eventually it will reach your tooth pulp. When that happens, your tooth can get incredibly painful. The infection can also spread to your other teeth. Root canal therapy gives you the opportunity to have your tooth repaired and save it.




What Happens in Root Canal Therapy?

When you come in for a root canal, there is a process we have to follow.

First, we get x-rays of your tooth. That way, we can figure out how deep your infection is. We will then numb the area where your tooth is so that you won't be in pain.

We will make an incision on the top of your tooth. That is the only way we can reach your tooth pulp. In order to treat your infection, we need to extract your tooth pulp. We then double-check to make sure that your infection is completely gone. We fill the space where your tooth pulp used to be, which means that your pulp is completely cleared of infection. The composite filling that we use has antibiotic medication. That way, the tooth will not get reinfected. We then crown the tooth so that we can make it as strong as it can be. We want to protect the tooth from breaking or cracking.

Do you have a tooth that is painful? Are you concerned that you or your child may need a root canal? Our professionals also offer baby root canals. Give Grins and Giggles Family Dentistry a call at (509) 928-4746 to seek treatment right away.