Mouthguards Spokane Valley WA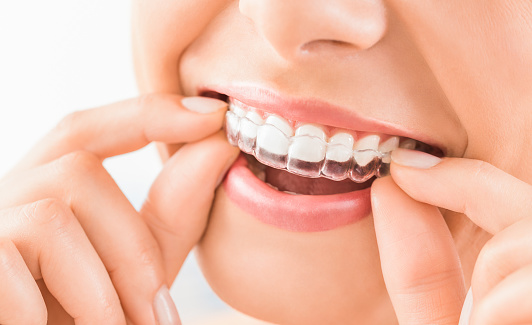 Most people are under the impression that mouthguards are only to be used in contact sports, especially for children. Nothing could be further from the truth. Mouthguards are also effective in treating various disorders related to sleep. These include bruxism where people are prone to teeth clenching and grinding at night, snoring, and sleep apnea. At Grins and Giggles Family Dentistry, we regularly meet patients whose quality of sleep and dental health have considerably improved after they had started using mouthguards at night.


Sleep Disorders and Mouthguards

Bruxism is a condition where patients clench and grind their teeth at night involuntarily. People who have this disorder may not be aware of their behavior, despite waking up with sore jaws, fatigue, and pain in the face. In extreme cases, it could also lead to tooth loss. A mouthguard, when used at night, keeps the teeth at their place, separated and at ease. The jaws are also allowed to relax, preventing any pain in the morning.

One of the most overlooked disorders is sleep apnea, a condition that, if left untreated, could become fatal. Sleep apnea creates breaks in one's breathing at night. As the breathing is periodically halted, there is a severe deprivation of oxygen, which could result in heart attacks or strokes. Mouthguards can take care of less-advanced versions of sleep apnea. They work by relaxing and separating the jaws, thus allowing for a free flow of air. Mouthguards are also effective in treating snoring, which is the result of tissue vibrating in the airway. By getting the lower jaw to relax and stay in front, the mouthguard enlarges the airway.


Different Kinds of Night Mouthguards

Depending on the material used, night mouthguards are divided into three categories. These are soft guards, double laminate guards and hard guards. Their usage depends on the severity of the condition being addressed. While soft guards can take care of mild versions of grinding, double laminates and hard guards work to prevent heavy clenching of the jaws. The latter also lasts longer than others.

Mouthguards are also differentiated according to the degree of customization, namely, stock protectors, boil and bite, and customized mouthguards. Stock protectors come in uniform sizes and may not fit the contours of an individual's teeth line. Boil and bite guards have higher ease of usage as the guard adjusts to one's teeth. The most effective mouthguards are the customized ones which are made to measure after our dentist or another member of our team takes an impression of your teeth and gets one custom-made.


Should I See a Doctor or Dentist Before Buying a Night Guard?

Typically, sleep disorders are noticed by the patient's partner or family members. If you know of someone suffering from any such condition, it's better to call us at (509) 928-4746 and schedule an appointment at Grins and Giggles Family Dentistry. Our dentists will then run specific tests to identify the problem and figure out its seriousness, and then suggest a treatment that will help. In many cases, the recommendation will be for nighttime mouthguards.