Safe Sedation for Kids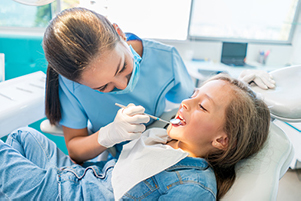 Our goal is for your child to have a great experience. Sometimes kids are still nervous about dental work, or they have a lot of treatment that needs to be done. Dr. Mostafa Kabbani utilizes a variety of techniques to help children successfully complete dental treatment. Often, nitrous oxide (often called "laughing gas") can help children calm down enough to receive treatment.

Dr. Mostafa Kabbani also provides in-office IV Sedation and General Anesthesia through a local anesthesia team. We offer a few of these appointments each month. During these treatments, your child is asleep and Dr. Mostafa Kabbani is able to perform extensive treatment that may not be possible for children who are extremely nervous or have special needs that make it difficult for them to remain still during treatment. Please contact our office if you have any questions about sedation options for children.