Dental Implants

Spokane Valley, WA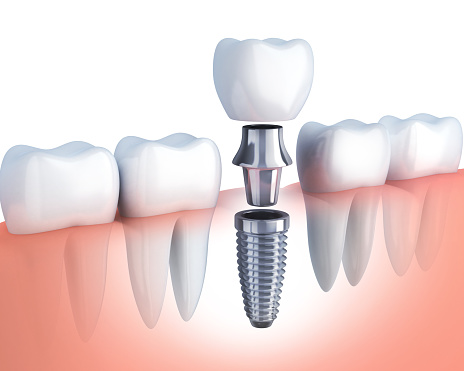 Gone are the days when tooth loss was considered to be a permanent condition that couldn't be reversed in any way. That gap in your teeth or the discomfort while chewing was supposed to be there forever. Dentures and bridges came along and were an enormous help to those with missing teeth, although they had their drawbacks. It wasn't until dental implants were invented in the 1950s that we had a permanent, irreversible and fully functional solution to tooth loss. At Grins and Giggles Family Dentistry, our doctors have been regularly placing dental implants in the jaws of adult patients who are extremely satisfied with their performance.


What are Dental Implants?

Dental implants can be considered as artificial roots or foundation for false teeth. Made of titanium, the implant screws are fixed into the jaw beneath the gum tissue. In a matter of months, the bone and the implant will fuse, paving the way for a strong foundation. Once that is in place, artificial teeth can be fixed on them. The new teeth will be constructed to resemble natural teeth in both appearance and function. Since the new teeth have new roots, they will be stable, strong, and durable.


When are Dental Implants Suggested?

Dentures and bridges are uncomfortable for some people due to a variety of reasons. They may not be suited due to the poor condition of the ridges or spots. When bridges are considered, dentists always look for support on both sides of the lost teeth. This is where dental implants significantly outperform dentures as they do not need anchoring teeth to support the new artificial teeth. If the gums are in a healthy condition and the jawbone is sturdy enough to support them, dental implants are the preferred option.


Benefits of Dental Implants

For patients with missing teeth, a dental implant isn't just a fixture. It's a massive boost of confidence. By design, they resemble natural teeth, in both looks and functionality. It also improves their smile and thus, their social lives. Dentures, when they don't fit well, can compromise one's ability to speak effectively. Since they are permanent fixtures, dental implants come with no such problems and significantly improve the patient's speech. They are also hugely convenient, as they don't have to be taken out to be cleaned. Made of durable metal and screwed into the bone, they are also long-lasting.


Will I Need Dental Implants?

Whether you have lost an individual tooth, multiple teeth or the entire teeth, our prosthodontists at Grins and Giggles Family Dentistry will use dental implants will rectify and restore the natural function and aesthetic appeal of your teeth. Once you call us at (509) 928-4746 and undergo an examination, the first thing our doctors will assess is the number of missing teeth and the condition of the jaw. If the jawbone is deemed to be strong enough to withstand the pressure of a dental implant, the procedure will be recommended. Since the implants need time to completely fuse with the jaw, the entire procedure will expectedly involve anywhere from a few months to a year. However, the time is worth it!