Laser Dentistry

Spokane Valley, WA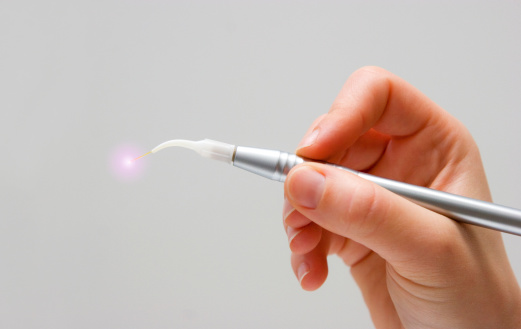 For almost three decades, laser dentistry has been used by dentists to treat several problems. It has been found to be highly effective in treatments, especially when they concern soft tissue like gums. At Grins and Giggles Family Dentistry, it's also been used to treat cavities and other dental problems that don't require complex invasive treatments.


How Does It Work?

Laser dentistry uses the energy of a high-powered beam of light. With its heat, it can vaporize tissue it happens to be focused on and can also augment the power of cleaning and teeth whitening substances like bleach. Although laser dentistry has been approved by the Food and Drug Administration, it still hasn't received the approval of the American Dental Association but they have stated that they are optimistic about the possibilities of the procedure.


Uses of Laser Dentistry

Lasers are useful in the treatment of soft tissue in several ways. In certain circumstances, when the gum tissue protrudes to the tooth surface, laser treatment is used to reshape the tissue and give a more natural smile. During restorative procedures that involve crowns, lasers are effective in redesigning the tissue and the bone for the right placement. Some people, especially children, suffer from a condition where the tongue's frenulum is not moving freely, causing problems while speaking. Laser dentistry is prescribed in those situations too.

It has also been used to detect cavities at an early stage before they progress to conditions that may require advanced procedures. Lasers have been found to be exceptionally productive in disinfecting and getting rid of bacteria. Most of our patients are relieved to learn that their tooth sensitivity can be successfully treated with laser treatment, requiring no painful procedures.


Advantages of Laser Dentistry

Laser dentistry has been steadily gaining popularity for decades. It is less intrusive than conventional procedures. That means it is less painful, and the time required is considerably less. It is also more comfortable from a patient's point of view. Under normal circumstances, someone undergoing laser treatment does not require local anesthesia. Patients also do not need uncomfortable sutures and are relieved to learn that it will take faster to heal. Softer tissue like gum is also less affected by the treatment. Since it does not involve drilling, patients are not likely to be anxious or uncomfortable.

It has to be stated that even with its advantages, laser dentistry is no substitute for standard dental procedures. Whether it is fillings or large cavities, there are instances where a traditional dental procedure cannot be substituted.


Do I Need Laser Dentistry?

It depends on the nature of the problem. At Grins and Giggles Family Dentistry, you can call us at (509) 928-4746 and schedule an examination by any of our experienced dental professionals who will assess the gravity of the situation. If it turns out that, for example, it is a small cavity or a manageable problem with the gums, tongue, or throat, laser dentistry could be the solution. Our dentists may also use lasers if you are scheduled for a crown installation to make sure that it would fit seamlessly.