Sedation Dentistry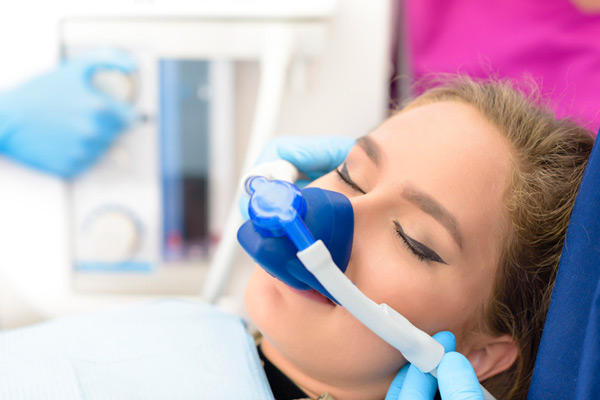 We here at Grins and Giggles Family Dentistry understand the importance of providing safe and comfortable treatment. Some children experience anxiety associated with the dentist, which is why we offer sedation with our procedures. Besides our kid-friendly environment, sedation dentistry can help your child have a more enjoyable trip to our office.

The type of sedation your child needs depends on the severity of their dental phobias. There are three levels of sedation: minimal, moderate, and deep. Regardless of the level, you can rest assured knowing we follow ADA guidelines to ensure the safety of the procedure. The following information can help you decide if sedation dentistry is right for your child.


Nitrous Oxide

Nitrous oxide, commonly referred to as "laughing gas," is perhaps the most popular form of sedation in dentistry. This odorless, tasteless gas is administered through a face mask that we place over the nose. Once it takes effect, it produces feelings of euphoria that will help your child relax.

Nitrous oxide is popular because it takes and loses effect faster than any other sedation. The gas is also very safe, as we can control the level of sedation in a matter of seconds. Like other types of sedation, nitrous oxide is often used in tandem with local anesthetic.


Oral Sedation

We may recommend oral sedation, which comes in the form of a liquid or pill. Oral, or enteral sedation, is one of the best ways to achieve minimal to moderate levels of relaxation. In many cases, we typically ask you to administer the pill about an hour before your child's appointment. During an appointment with oral sedation, your child will be awake and alert, but not nervous about their visit.


IV Sedation

IV sedation, as the name suggests, is administered intravenously to provide deeper levels of relaxation. The nature of IV sedation makes it a little more serious than the first two options. We may enlist the help of a licensed anesthesiologist to ensure safe administration.

Iv sedation places your child on the edge of consciousness, commonly referred to as the "Twilight" state. They will be somewhere between asleep and awake, while still being able to respond to stimulus. Most children have little to no recollection of their procedure under IV sedation. This type of sedation is usually reserved for extensive or lengthy procedures.


General Anesthesia

General anesthesia, in which your child is completely unconscious, is typically only used during complex oral surgery. The administration of general anesthesia requires the assistance of an anesthesiologist to monitor vital signs. In some cases, we may also suggest general anesthesia if your child has severe phobias that would otherwise prevent us from treating them. Be sure to ask questions and voice any concerns during their initial appointment.


Schedule an Appointment

If you think your child could benefit from sedation dentistry, you have come to the right place. Dr. Mostafa Kabbani and the rest of our team have undergone extensive training for the safe and effective administration of sedation. Call (509) 928-4746 to schedule your child's appointment today!