Digital X-Rays

Spokane Valley, WA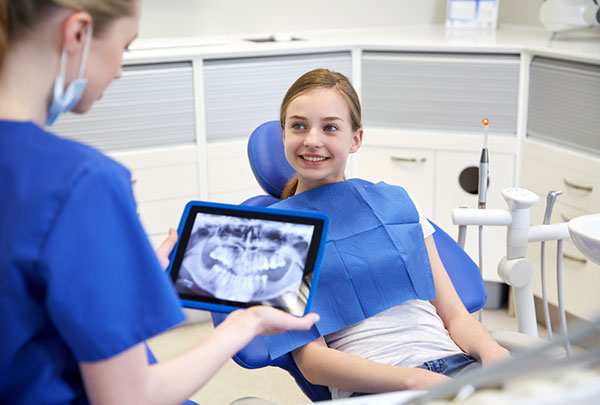 Digital Radiography is an advanced form of medical imaging that uses digital technology to detect and diagnose in real-time, instead of having to wait for the image to be captured on another medium. This has revolutionized the field of healthcare imaging by giving medical professionals comprehensive, holistic, and immediate visual updates about the patient's condition. Here at Grins and Giggles Family Dentistry, we continually see the firsthand benefits of digital radiography in multiple fields of specialty, enabling our team to analyze and diagnose faster and more accurately than ever before.


How is Digital Radiography Different?

Imaging processes in healthcare used to be time-consuming and challenging for the patients, technicians, and medical staff. In the early days, x-rays were taken when an image of the body was captured on an intermediate object or cassette, then developed and shared with the patient who would take it to the medical team.

Digital radiography does away with the need for the intermediate object and directly transfers the image, using digital technology, to a computer that the physician can observe. Technically, x-ray gets translated to light, which in turn gets converted to digital data that can be accessed and read by a computer. Digital radiography machines are of two types; the ones fixed to a particular room or lab and the portable ones.


Benefits of Digital Radiography

Conventional imaging methods were slower and, at times, inaccurate. A patient had to wait for the machine to capture the data on x-ray sheets and then wait for them to get printed. The patient then would have to carry the x-ray and share with the doctor physically. In digital radiography, detection is done almost instantaneously. What the machine captures is immediately transferred to the computer or other digital devices, and the results are analyzed quickly.

Another significant benefit of digital radiography is that if the imaging isn't done accurately, our team can always ask for alterations in real-time. Earlier, the entire process would have to be repeated from the start, forcing patients at times to make multiple visits. Image clarity is also sharper and more pronounced, enabling our professionals to get a clearer view of the body part. The fact that some digital radiography machines are portable gives it access to patients who cannot be physically moved to x-ray machines.

Like most technologies in their introduction phase, digital radiography is also expensive when compared to other methods. But due to its compelling benefits, more healthcare centers are switching to this technology.


When Do I Need Digital Radiography?

At Grins and Giggles Family Dentistry, we pride ourselves in using the latest in medical technology, and that includes digital radiography. No matter what ailment or condition you want to be looked into, from dentistry to gastroenterology, all you have to do is call us at (509) 928-4746. Once the initial examination is done, the professionals who make up our team will refer you for digital radiography if needed. The good news is that in a single visit, you will be able to get your consultation, digital radiography, and the subsequent diagnosis done.