TMJ Treatment Spokane Valley WA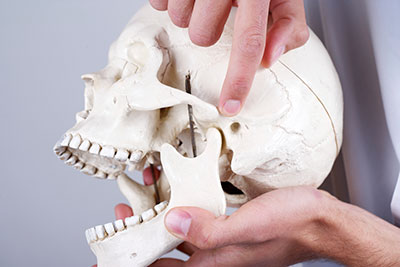 Temporomandibular joints are the connections between your jaws and the skull. Found on both sides of the mouth, they are what enable your jaws to move both horizontally and vertically. Situated close to the ears, they do the heavy-lifting when you are talking, chewing or any time moving your jaw. For such hardworking joints, people barely notice their presence unless there is perceptible discomfort or pain. Temporomandibular disorders or TMD are troubles between the jaws and the corresponding facial muscles. They are sometimes referred to as TMJ, but, according to the doctors at Grins and Giggles Family Dentistry, there's little difference between the two.


Causes of TMJ/TMD

There is no clear reason for the occurrence of TMD. It can either be the result of an injury, specifically to the jaw, a genetic condition, arthritis, or complications resulting from injuries to the neck or head. It has been found that those who clench and grind their teeth are also prone to TMD. Studies have also shown that stress can be a contributing factor as a result of the tightening of muscles on the face or in the jaw. Some medical professionals believe that one of the leading causes of TMD is the misalignment of the discs that separate the cartilages that cover the joints. The erosion of the disc either from arthritis or from any injury can also lead to temporomandibular disorders.


Symptoms of TMD

TMD starts as pain in the facial muscles or the joints of the jaw. It may begin as occasional bouts of discomfort and gradually progress to a more frequent occurrence. It may be localized or spread across one's face. In some patients, we have noted that the condition has been recurring for years. It may begin as pain on parts of your face when you chew or stretch your jaws.

Patients also complain of a clicking sound while closing or opening their mouth or while chewing. In some cases, the jaw could also get locked in a particular position. Other symptoms include swelling and discomfort while opening or closing the mouth, or while chewing. TMD can also result in facial fatigue, where one is too tired to talk or eat. It can also lead to headache or pain in the ears.


When Should I See A Doctor?

At Grins and Giggles Family Dentistry, we have doctors who specialize in TMD. Their suggestion is to come in early if there is persistent or noticeable pain or discomfort in your jaw or facial muscles. At times, it may begin as tenderness in certain parts of the face or the jaw. If you suffer from arthritis or have had an injury or suffered a blow to the face or neck, you should get it checked. Although there is no permanent solution or surgery that can solve the problem quickly, TMD can be successfully managed by a combination of medications and procedures. Therapy, massage, and stretches of your facial muscles and the jaw are all part of the treatment plan. You can always call us at (509) 928-4746 for more details and schedule a visit.

Our office is proud to offer other family services, including dental cleanings, dental exams, and more!